The housing market has seen a positive change due to the Coronavirus Pandemic. A surprisingly adverse outcome occurred when middle and upper-income housing prices were appreciated by 5% this quarter. As a result of increased home values combined with high unemployment, a large number of homeowners are opting to list their homes on the market in the hopes of getting a maximum return on their investment. And, with interest rates at an all-time low, a perfect storm has resulted in potential new homeowners entering the market…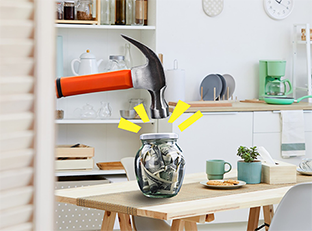 Cheap Remodeling and Renovation
Not only is home resale up ticking, but with the travel bans that have been instated both state-wide and internationally, there is less travel and many Americans are sheltering in place, with people working from home now more than ever before. With all those hours at home rather than the office, homeowners are turning a critical eye on what are the benefits of kitchen remodeling but with one important catch. Higgins for the New York Times stated, "…they find ways to improve their homes without breaking the bank." (Higgins).
Whether you are upgrading in the hopes of placing your home on the market or simply just looking for a much-needed refresh, a good place to start is with the heart of the home - the kitchen. The kitchen is now more than just a place for the family dinner or a quick snack. It's doubling up as a home office or classroom in some cases so we are finding ourselves spending a lot more time there.
It makes sense that many homeowners are turning their attention to what can be done to improve the kitchen. However, the only issue is that kitchen remodels can be very expensive. With a tight or limited budget top-of-mind, we've sourced a multitude of creative ways to remodel or upgrade your kitchen remodel on a budget.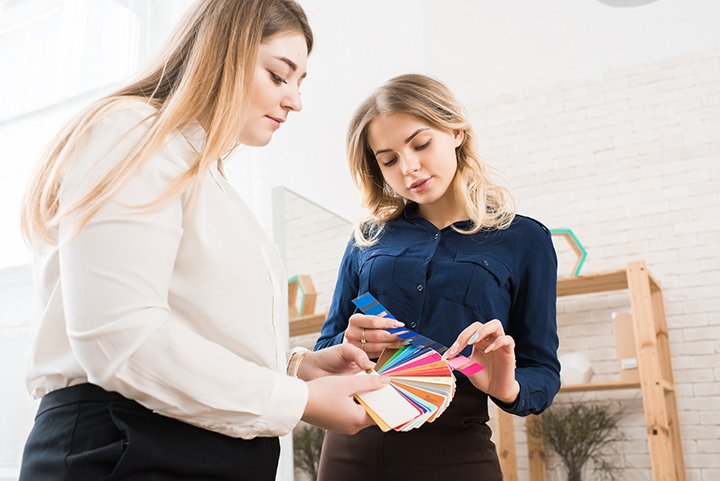 1. Paint your kitchen a new color
One of the least expensive ways to update your home is with paint. Consider using a primer/paint combination to save on the cost of two cans vs one and the labor of doing it twice. The third time is not a charm…

Always - always spot test first. The color printed on the paint swatch will usually look very different once applied, depending on any number of factors. A great tip from Paul Fatifato, customer service coordinator at Home Depot in Chicago's North Avenue is "most brands have test pots you can buy for less than $5 to try out a color before you buy a gallon." This will save you money in the long run as many times paint is non-returnable - not to mention the frustration of wasted time and effort and multiple trips to the store.

"Most Ace Hardware stores have a shelf of mismatched paint that customers didn't want. They sell for only $5 a quart of $10 a gallon." (Mann) Another person's painter's remorse can be your gain if you have some flexibility in the color selection. Need more than a gallon? Choose more than one color. For example, one color for cabinet bottoms and another for the tops showcases your creativity and allows you to capitalize on the cost savings.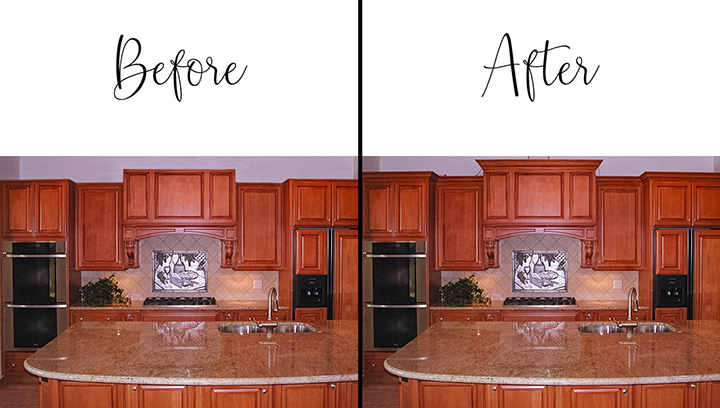 2. Create a custom cabinet look
The best thing about this design trend is that basically anyone can do it efficiently and affordably. If you want to cover the space between the cabinets and the ceiling, install decorative molding along the tops of the cabinets to give it a customized look. "Measure to see how much molding is required," says Cheryl Ferreira, project manager with the National Kitchen Remodel Program for The Home Depot in Tampa, Fla. (Schaub)

Measure twice to know your measurements and decide the style of crown molding or trim

Purchase your crown molding from the hardware store

Attach the decorative piece to your cabinet top

Paint or stain the molding

To finish the look. purchase new drawer pulls and doorknobs. This can change the look and feel for next to nothing. Styles change so an easy way to update the style of your cabinets is to replace the old finish with a new one.
3. Don't move major appliances around
"Relocating the sink or range may necessitate new plumbing or gas lines, which are especially burdensome (and costly) when there's no basement and water pipes and gas lines are embedded in the foundation," Katz says, vice president of operations and customer service at Katz Builders in Austin, Texas. We've all seen remodeling shows on TV where the host-pro recommends knocking down a wall or two shifting workspaces. However, this usually brings up unexpected costs and issues.

Rather than move appliances, consider upgrading to enhance and update the look of your kitchen. While it's tempting to strive for greater efficiency, if it means relocation - it might not be within budget. Keep the footprint and put the money into upgrading your appliances from a simple fix such as a stainless steel toaster to larger purchase items like a stainless steel refrigerator. Many known brands have warehouses for dented and returned items. Check there first.
4. Use your space wisely
Some low-cost organizational opportunities may be possible or even presently available in coordination with your renovation plans. Before you start any remodeling project, take a trip to your local Ikea. Ikea has cornered the market on how to utilize every square inch with style. Visit their vignettes or even look at the Ikea inspiration galleries on their website for inspiration. Take note of ideas or photos if you are in-store and see what you can do to duplicate them from items you may already have in your home.

"If you have an extra space that isn't being used for anything you could always turn it into your pantry. With everyone spending more time at home, space for dry goods is in high demand. All you need to do is grab two metal shelves and stack them together and tada you have a shelf ready for all your food. - Restaurateur Connection" (Cahill)
Any of these remodeling tips will boost the resale value of your home or make time spent there more pleasant during the Covid lockdown. Painting cabinets and adding decorative molding gives your kitchen a new element. Not moving around large appliances like the kitchen sink will reduce your renovation costs and keep overhead costs down. Finally, consider finding creative ways to repurpose your space without spending a dime.
Whether your kitchen is near perfect to the dream space you imagined, or it's just broken beyond repair, our 5 tips respond how to remodel a kitchen on a tight budget. Was this article helpful? Be sure to leave your thoughts in the comments and chat with us about our favorite topic, kitchens, and home improvement!
Sources
Mann, Leslie. "Cheap Yet Chic Updates." Chicago Tribune, 23 May 2010, pp. 7–7.
"Stretching the Budget For Kitchen Remodeling." Pittsburgh Post - Gazette, 30 Sept. 2016, p. B.3, search.proquest.com/docview/1824498192?accountid=41651.
CTW Features, Dawn Klingensmith. "How to keep project costs to a minimum." Daily Herald (Arlington Heights, IL), WEB ed., sec. Real Estate, 10 Aug. 2019, p. 0. NewsBank: Chicago News Sources, infoweb.newsbank.com/apps/news/document-view? p=NewsBank&docref=news/175465E951550EB8. Accessed 19 Oct. 2020.
Higgins, Michelle. "Seven Ways to Save on Your Kitchen Renovation." New York Times, 13 Aug. 2017, p. RE.6. Proquest, budget kitchen remodel.
Cahill, Mike. "Expert Tips to Make the Most of a Tiny Kitchen." 12 Oct. 2020, www.redfin.com/blog/make-the-most-of-a-tiny-kitchen/. Accessed 20 Oct. 2020.
Schaub, Cahrlyne Varkonyi. "Kitchen Updates on a Tight Budget." Chicago Tribune, 25 June 2004, p. 3. Proquest, budget kitchen remodel.
See also