What is the cost of adding luxury radiant heating in a kitchen? Before we discuss the average cost of radiantly heating a home, let's first discuss what exactly is radiant heating? Think of it as an electric heating blanket for your floor. It's a heating cable sewn onto a fiberglass mesh that spans the area to cover from wall to wall. The heating element is installed over the subfloor. Then, flooring, like tile, is placed on top of the heating system. This technology results in better room temperatures, better home relaxation, and better energy efficiency. It just makes everything better.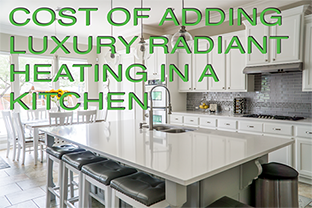 ---
So why is the awareness of what radiant heating is not greater? For many people when you think of heating systems, what comes to mind is an HVAC system - plumbing and air conditioning installations. Electric radiant heating doesn't force air through ventilation ducts, it relies on the thermal energy produced from electric heating cables, similar to how the sun works.
The beauty of radiant heating is that it is installed directly underneath the floor and heats the floor, the room, and its objects from the ground up. This gives homeowners a unique opportunity to use radiant heating as a subthermal heating bank which has been known to retain heat longer and save energy costs as a result. The cost-effectiveness of a floor heating system is greater as opposed to an air ventilation system because it cuts heat loss by 10 to 15 percent over the other heating methods. Now that we know what radiant heating is and some of its benefits, let's look at the cost of floor heating based on the cost of product, installation, and operation.
Floor Heating Products are Affordable Luxury
The cost of floor heating is typically calculated per square foot. It's important to know that the heating element is only installed in the footprint of the room. Heating cables are not installed under cabinets, an island, or any furniture with a base. Finalize your kitchen layout so you can truly understand the cost of the floor heating product.
The radiant heating system consists of the heating element, thermostatic control and a circuit check. The circuit check is a handy device used during the installation of the heating element to ensure that the heating cable is not damaged during installation.
There are online tools that help with estimating the cost of the floor heating product. You will need some information to get started. Take note of your room dimensions, the intended square footage you want to warm, and you are ready to get started.
Check out WarmlyYours' Instant Quote tool. It will report out precisely how much it will cost to add radiant heating to your kitchen. What's great about this quote tool is that it gives you a fully customized quote that gives you the costs of the heating systems that work with your space and application, showing you control options and accessories. As you go through the huge selection of heating systems, controls, and accessories, the tool gives real-time updates of pricing options. Not only is the tool offering precise cost estimates, but it's also responsively updating the totals as changes are made.
Below is an example of a kitchen floor plan with the heating element designed in the foot print of the room. In this example, the areas next to the walls or underneath permanent fixtures do not need to get heated. This is what WarmlyYours calls a SmartPlan. The space between the cabinets is the area that is actually heated.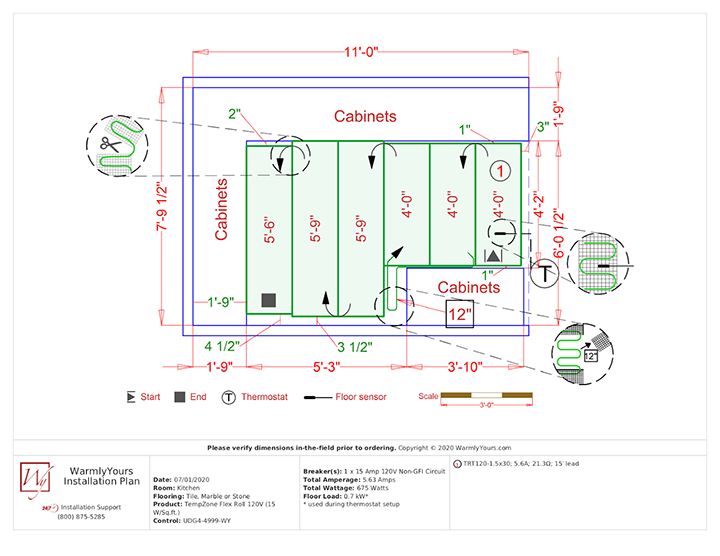 To read the floor plan, there is a black triangle on the bottom right of the floor plan that pinpoints where to start laying out the product, and the arrows show where to cut the mesh and turn the cable. The TempZone™ Flex Roll allows the installer the flexibility to cut and turn the roll to effectively fill the floor space while providing 15 watts per square foot of warm radiant heat.
The 1.5- by 30-foot Flex Roll in this design covers 45 square feet of floor space and costs $517.50, which amounts to $11.50 per square foot. Durable fiberglass mats give strength so as it cuts and turns, the cable will remain intact. After two runs then the heating cable will have taken up three feet. If this is not the case, then it's a great idea to refer back to the installation guide or call WarmlyYours 24/7 tech support line.
The circles with dotted lines provide installation tips for the heating element. One gives reference to the sensor location that hooks up to the thermostat. The floor sensor is placed 6" from the wall and rests atop the fiberglass mesh to be covered with the finished flooring. When an electrician connects the floor heating system to a thermostat, the floor sensor adeptly reports accurate readings of the actual floor temperatures and simultaneously ensures that the cable's working correctly: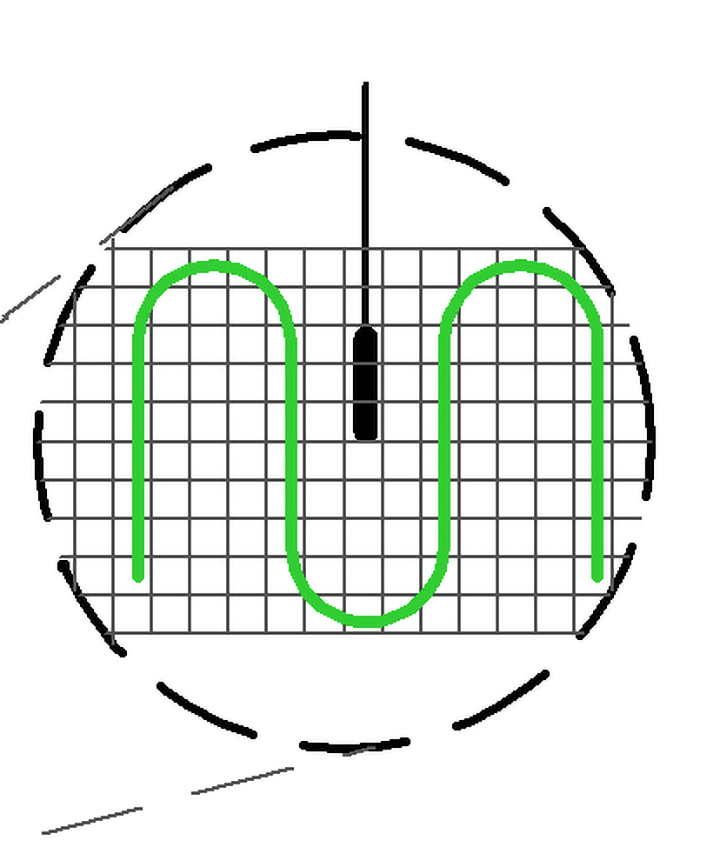 The diagram below illustrates how to carefully cut the cable away from the fiberglass mesh. This circle represents specifically the cut-and-turn processes. Every time there is an arrow indicated on the plan is where this process should be repeated. Always remember to never cut the cable.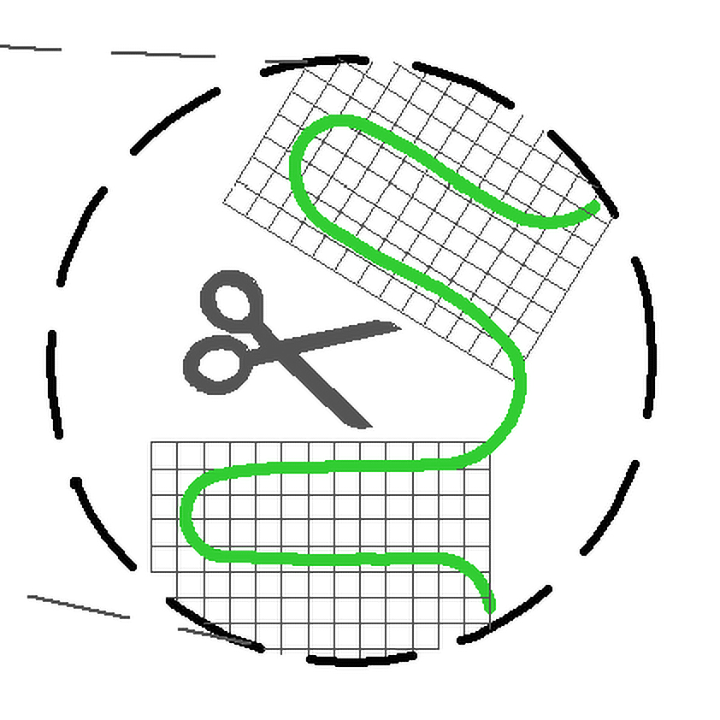 The final of the circles shows you if free form cable is required at that place along the cable's journey. A number of inches that's been bordered by a black square line tells you how much to remove from the mesh. Twelve inches of the mesh is cut off of the grid and when you get rid of that fiberglass mesh then you free up enough cable to cover parts of the floor embedded cable couldn't reach on its own. In this case, the cable must be 2" from the base of the cabinet unit. Properly space the cable so the radiant energy reaches just up to the edge of where the floor heating should be: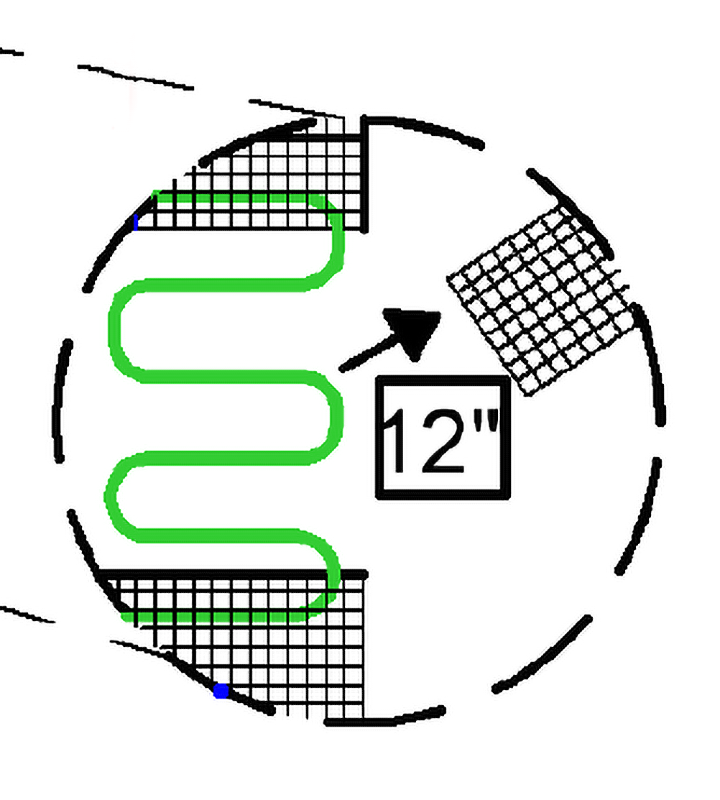 Controllers are priced from $139.00 and can go up to $295.00 dependent upon the features you desire. The thermostat temperature is controlled by an in-floor sensor which is installed between loops of the heating element and wired to the back of the control. The sensor checks the actual temperature and adjusts temperature based on your schedule.
The top-of-the-line control option is a Wifi Programmable Thermostat. If you want a simpler and more affordable means of heating control, then a Non-Programmable Thermostat may be your best option.
Cost of Installation of a Floor Heating System
There's an all new suite of services from WarmlyYours that can help with every part of the installation process - either onsite or remotely. Their SmartGuide Service takes out all the trip-ups of installing radiant heating. There are four services available.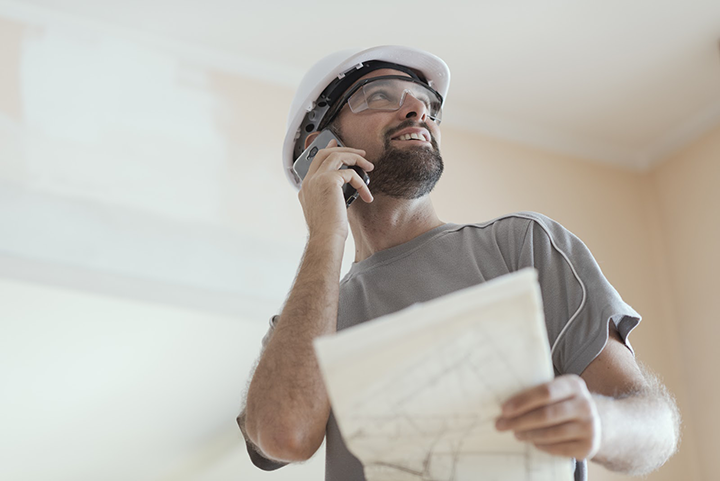 For $75 WarmlyYours' Remote SmartFit service will assist with remote measuring of the intended room you want to install radiant heating in. The fee includes up to three rooms plus $10 to measure each subsequent room. The end result ensures that your SmartPlan is accurate and has just the right amount of heating cable.
Noone likes crawling around and counting every inch so the On-Site SmartFit service really aims, in all seriousness, to size the space and tally up the numbers for you. Warmlyyours measures the dimensions of up to three rooms for $250, and you get accurate measurements so WarmlyYours can fit the best floor heating roll or mat for the area. The Measuring Service will cost $10 for each additional room and $3.50 per mile driven if you're over 100 miles from WarmlyYours HQ.
In addition, installation guidance over a video call can be requested. WarmlyYours technicians provide Remote SmartGuide. The cost of this service is $75 for the first hour and an additional $75/hour thereafter. This service puts a professional tradesman on your team who'll guide you through the installation process. Once you've tried installing with remote supervision, you'll wonder how you ever managed without one.
On-Site SmartGuide costs $399 for a one-day supervision with a time limit of 6 hours. Radiant heating products come in the form of cables, mats, and towel warmers all of which are the expertise of a WarmlyYours technician so that you don't have to install them separately. This service serves our immediate local community best which remains within a 100 mile radius. Additional travel fees include $3.50 per mile over 100 miles, $499 for an overnight stay, and if an extensive stay is required then the fee will be calculated at the quoting stage.
It rarely happens but if your radiant heating system fails or there isn't enough heat, the WarmlyYours radiant heating professionals have the ability to troubleshoot the problem and offer repair recommendations - even if it's not their system.
On-Site SmartFix brings the radiant heating repair experience you need if a system malfunctions or the cables overheat. It's easy to set up for any of their radiant heating products. The Initial service fee is $349 for one hour of troubleshooting and repair at the job site. If your system is out of warranty then this service is really great. It's convenient and maintenance-free only costing $150 per hour starting when the technician arrives. Your floors will be restored, and if the repair time is pushed to more than a day and an overnight stay is required, then there's another flat fee of $499. An extensive stay occurs when the time to complete the job remains to be seen and the price for an extended stay will be determined onsite.
If you are located or reside within 100 miles of the WarmlyYours HQ in Lake Zurich, Illinois, their On-Site SmartInstall for the radiant heating system is available. Service fee begins at $399 which'll cover one day of onsite supervision or installation and a subsequent $199 per day limited to 6 hours of work on that given day. The going rate of a SmartInstall per Sqft tallies up $3.50/Sq. Ft. So, a 45 sq ft heating area in Batavia, IL will cost $157.50. It's a great service and by selecting it your finite warranty is upgraded to a lifetime warranty. A dedicated radiant heating expert guides your installation, ensuring the floor heating will function right. Homeowners who live outside of a 100 mile radius must also account for additional travel fees and overnight fees. Last but not least, SmartInstall Installation Service gives each customer a Pre or Post-Installation Commissioning Meeting to better harmonize everyone's efforts. It will cost $199 for each.
As the installer masterfully installs the 45 sq ft of kitchen flooring with tempzone flex roll, the going rate is fixed at an additional $199 / Day. Here it tallies to a total of $157.50 for a great installation from an experienced trade professional. When you add that onto the cost of the product, you're now looking at $675 in addition to a lifetime warranty.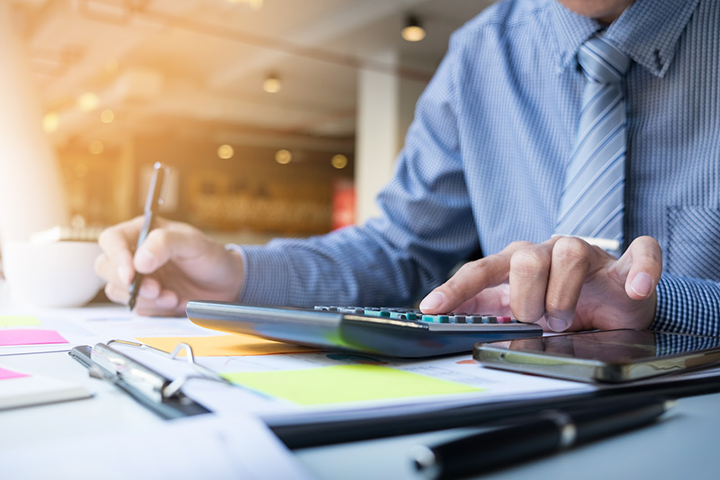 Operating Costs
Trying to calculate the cost to run an electric floor heating system can be confusing, for anyone. Time and temperature for one thing go into the equation, but we're pleased to say that due to WarmlyYours' Energy Use Calculator, crunching the numbers won't be troublesome any longer. We ran a test run with the specifications of the cozy kitchen floor plan. The average monthly kWh cost of a 45 sq foot heating area in Lake Zurich, IL is $10.44. According to WarmlyYours' Energy Use Calculator, it only costs 25 cents a day to heat this kitchen for eight consecutive hours.
Using WarmlyYours' Heat Loss Calculator, the highest monthly electric bill for this room would amount to only $9.38 during the coldest month of the year. And, annually, that comes out to just $50.81. If your kitchen rests above an unheated basement or any area where there is significant heat loss, you will find that the addition of electric floor heating will give you the heat you need to keep your kitchen at a comfortable temperature.
The radiant heating system is very economical to operate. The Heat Loss Calculator tool also factors in the desired room temperature, sealing factor, surrounding rooms, and insulation factors to determine whether radiant heat can be the sole source of heat for the room. Electric in-floor radiant heating is a luxury at an affordable price with minimal electricity costs. We hope that this article has increased your understanding of the costs associated with radiant heating. If you have any questions, leave a comment here and we'll provide the answers you need to make the right decision for your kitchen project.
Sources
Instant Quote: www.warmlyyours.com/my_projects/new Energy Use Calculator: www.warmlyyours.com/floor-heating/cost-calculator Heat Loss Calculator: www.warmlyyours.com/tools/heatloss-calculato… Average Electricity Cost: https://www.electricitylocal.com/states/illinois/lake-zurich/
Dulley, J. (2017, January 8). Electric in-floor heating vs. forced-air heating systems. Dailey Herald. Retrieved October 27, 2020, from https://www.newsbank.com/.
Hageman, W. (2013, January 18). Keep feet toasty with radiant heat. Chicago Tribune. Retrieved October 27, 2020, from https://www.proquest.com/.
See also