Your kitchen wouldn't be complete without countertops and wall tiles. When arranging the design elements and architectural features, the colors don't have to match, but they ought to be balanced. 
Complimentary Color Theme
You're not going to love your kitchen backsplash tiles if they do not suit the color of your countertops. Ideally, colors complement, harmonize, and enhance cohesion across the room's visual plane.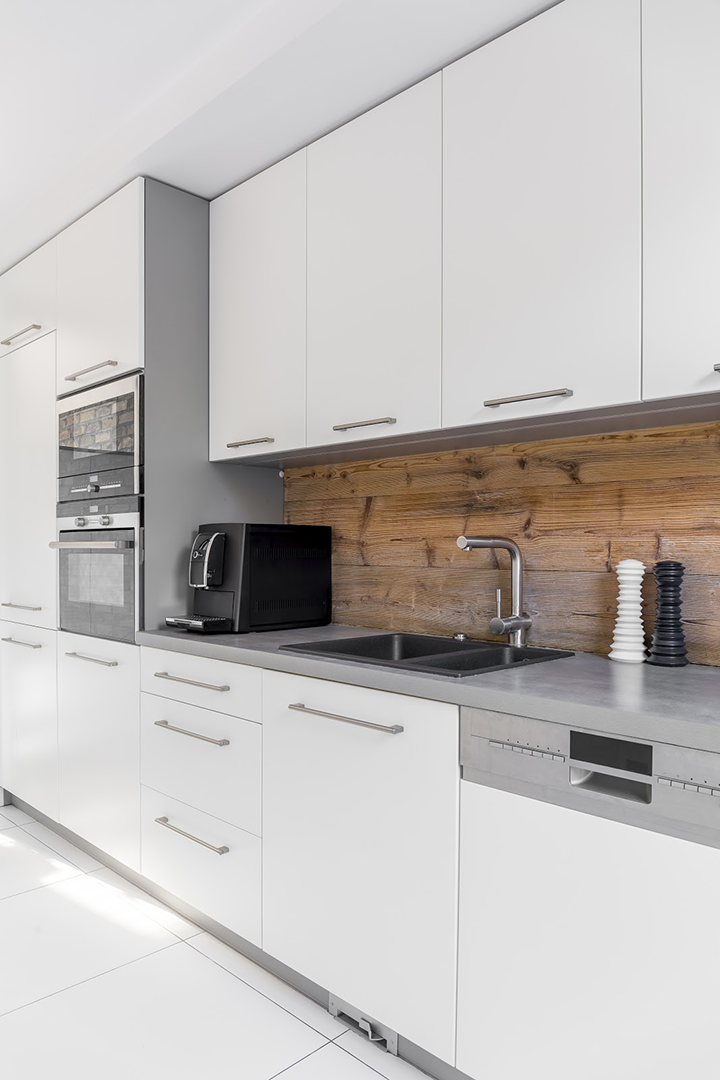 Contrasting Color Theme
Use backsplash tiles with colors that visually clash against your countertops. We like counterintuitive and dramatic kitchens. Include a variety of colors to other spots of the kitchen, such as the floor, kitchen appliances, light fixtures, faucets, and ceramic sinks, and don't forget to choose a color that suits your overall style.
For starters, you may want to install a stainless steel backsplash with slate countertops and stainless steel appliances, you may go for pale blue tiles with engineered hardwood countertops and wedgewood blue-opal window treatments. The options are entirely yours to choose. But overtime, you ultimately want to fixate on warm and inviting spaces that bolster well-coordinated environments.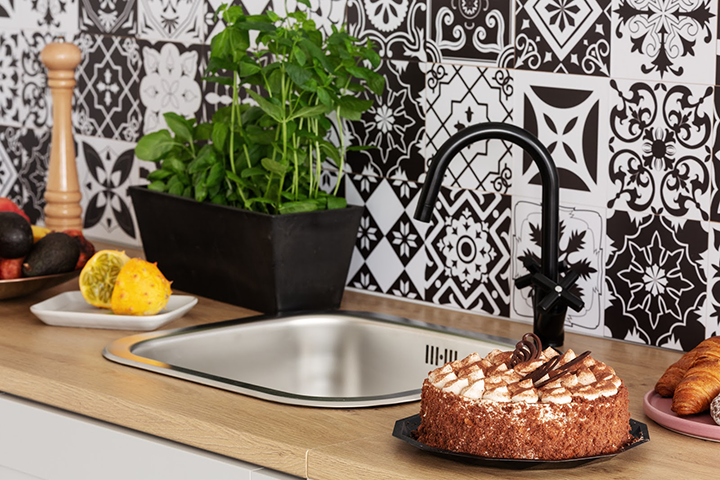 Coordinating Colors
Every morning you wake up and the kitchen is one of the first places you seek out to start your day. You can opt for a backsplash tile color that suits or corresponds with a specific spot or hue. For example, soft gray backsplash tiles can appear striking against charcoal granite countertops with light gray spots.
Most honey-colored subway tiles look appealing on brown, gold and beige marble countertops. Terracotta backsplash tile tie-in amazingly with maple countertops with autumn undertones.
Once you buy or add tile, keep backsplash tile test on your countertops to see which ones are most appealing. Pro-tip: test in a variety of lighting - dawn, high-noon and dusk. You will be surprised to see how the change in lighting will affect the character and nuance of each tile.
Design Tips
When choosing countertops and backsplashes, do not lose sight of the fact that they have a job to do. If you're a serious chef, you might want a harder surface that doesn't need a lot of care and attention. If you're a baker, you may want a marble countertops or block-end that rests at a lower temperature. Think about how the material will hold up and make good choices that play to an evolving suitcase of needs over the years ahead.
There are a few things to consider when it comes to granite, quartz, or laminate. Granite is a natural material, so that the pattern is unique to a stone's veins and mineral deposits. This is also the most attractive to some people. Whilst granite is the hardest, most durable and least scratch-able natural stone, it can still be stained. Quartz is a man-made material available in many different forms.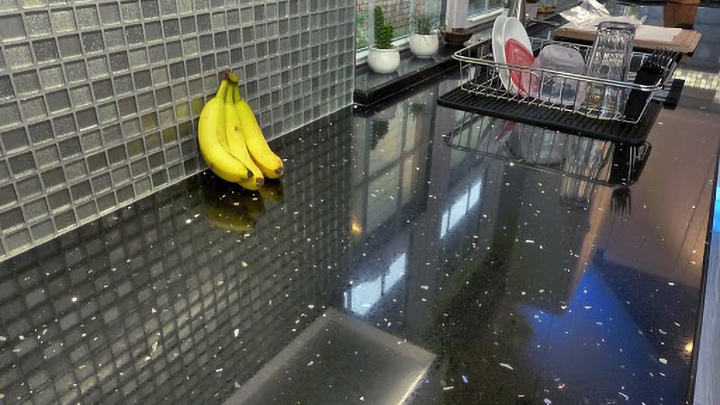 Quartz countertops consist of quartz chips that bond with resin, giving quartz a generally more uniform feel. Quartz is an extremely hard and robust product that's become a poplar choice for kitchen countertops. They need less upkeep and care than granite and do not need to be covered.
Laminate countertops have come a long way. If you're looking for a lower price point or something for use in a bathroom or laundry room, it's a head of the game. Here's an example of a laminate countertop that looks just like granite, it's really tough to spot the different.. there's really no way of spotting the difference at a glance. Consult with a professional and ask them to tell which one's which.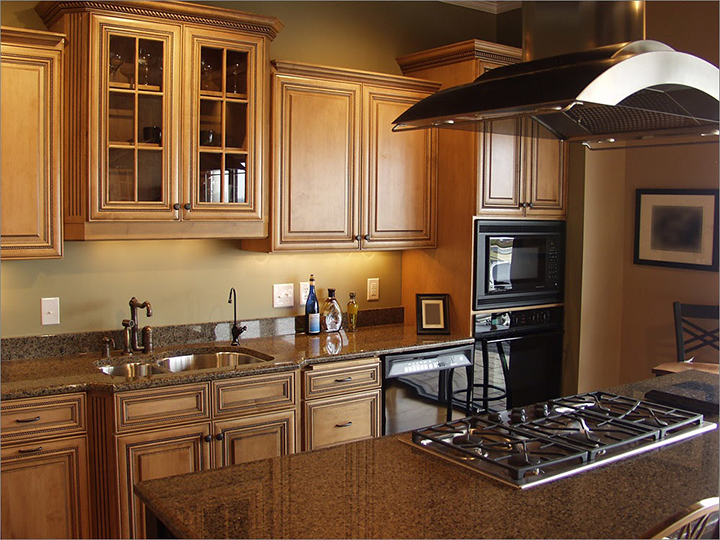 When you begin the process of choosing your countertop surface, be aware of the thermal conductivity of the natural stone being applied. Often times, when speaking of design with a professional designer, they're making the decision on behalf of the client. One of the many complaints of the clients they say is that their countertops are always cold. There is a product on the market that can be retrofitted right to the underside of a kitchen counter. It is designed to bring heat to a kitchen countertop surface with a radiant heating cable wired and embedded in a heating mat.
No more suffering from cold countertops! The following video showcases a Feelswarm countertop heater that really is a delight.
Countertop First
Answering the age old dilemma of the countertop or the backsplash. Which one goes first? You might not be sure whether to install a countertop or backsplash first. You might even be adjusting your design to a new layout. You may determine how busy or plain the kitchen backsplash and countertop ought to be. Incorporating a complex granite shouldn't be too bland, or even marble or quartzite, a discrete neutral choice that keeps the region from being too much.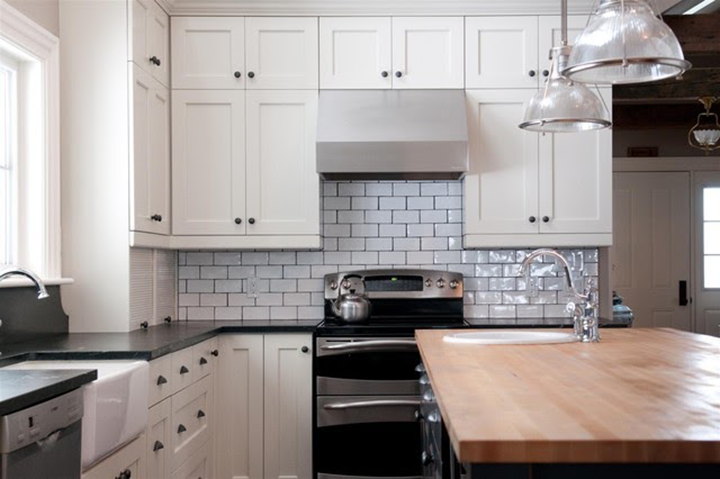 For example, the kitchen above has Fantasy Black Quartz countertops with a white subway tile backsplash and black grout. Backsplash is a good choice for a couple of reasons. First, it accentuates and contrasts the accent color of the countertop. Second, it feigns as a dirty subway wall when actually, it's a clean kitchen backsplash.
Backsplash First
Beginning with a backsplash isn't a bad idea. More often than not, the backsplash will be noticed before a countertop since it is at eye level. First impressions are important. Honing in on a backsplash option also narrows down countertop selections. Granite and marble are a safe choice. Absolute Black Granite and White Calcutta Marble tiles have been seeing a big reemergence this year.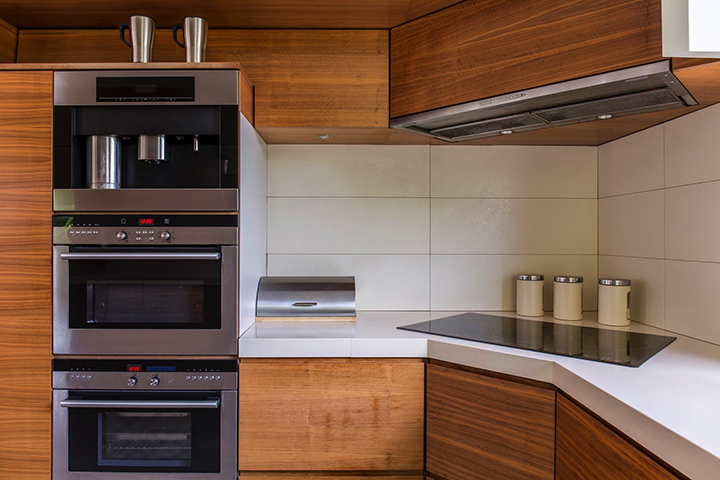 Countertops materials and backsplash tiles often proovide a visual lead. Your visual lead sets the tone for the rest of the kitchen experience. That doesn't mean you're not supposed to play around with colors and layout placements. You're going to want to have a theme that works with both a countertop and a backsplash, even mildly so.
Does your countertop match your wall tiles? Have you struggled trying to understand which to install first? Comment below!
See also