A big move can feel really overwhelming at times. Especially if you've decided to move hundreds of miles across the country and embrace a new community. Moving across the country can be a wonderfully stressful circus of loops and hurdles to navigate through and we've written this piece to try and tame it down a bit. We'll be covering the do's and don'ts of relocating long distances to your new home.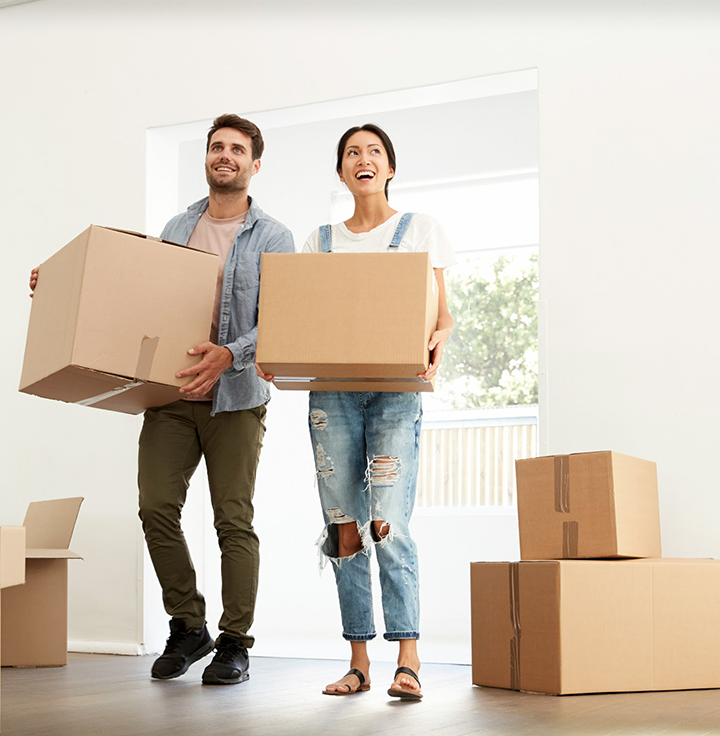 Sell, give away, or donate all your stuff
Seriously consider downsizing to get rid of unwanted items. Stack up a giveaway pile with clothes that no longer fit, old books you swore you were going to read, gifts that just did not resonate with you.
Make time to go to your local Goodwill and donate. Use online resources such as Craigslist or Facebook Marketplace, you wouldn't believe how easy it is to sell secondhand items online. If you're on a deadline, offer a low estimate to sell things faster.
Do

Sell items fast and easily online
Give things away to friends and family
Donate to Goodwill/Salvation Army and recycle apps

Don't

Be afraid to cast a wide net when searching for potential buyers
Donate an item without checking the market value
Keep things you don't need
Research the Area
You should research the new area you're moving into, for any move. Checking the crime reports, finding good schools, and going on Google street view to get an idea of your neighborhood's walkability is all part of doing your due diligence. One savvy mover who shared his story online actually hired someone on TaskRabbit to survey the neighborhood ahead of time. Task rabbit and Fivver are great examples of the gig economy co-opting some responsibilities of the moving process.
Do

Identify where pockets of crime have been reported
Think about renting before buying a home
Put effort into research

Don't

Commit to a down payment without researching
Be quick to judge
Live in a hotspot of crime
Determine the scale of your move
If you can only afford to just take the bare minimum with you, getting rid of the stuff you no longer need and driving to your new home is undoubtedly the cheapest way to move. This would be ideal to move across the country cheaply.
On the other hand, if you've decided to take most of your belongings along for the trip, hauling a lot of things will most definitely require renting a truck from U-Haul or another moving equipment company.
For additional convenience, we recommend you consider a storage pod from the PODS company. This mover delivers a lightweight storage container right to your driveway and they've been consistently offering reliable portable storage for years now.
Large households might want to upgrade to a semi-truck seeing how there'd be significant items to move. Freight van trailers are also available for rent and their rates are usually measured by the mile, (around 1$ a mile) plus a one-time truck rental fee. Ultimately, go with a moving service that suits your budget and timeline.
Do

Ask a moving company about additional fees (parking, fuel, etc.)
Return your U-Haul with a full tank of gas
Pack heavy things in little boxes
Label everything

Don't

Accept a binding estimate unless the moving company sent over an appraiser
Pack fragile items precariously
Forget to stage items on moving day
Work with the best
Working with only the best realtors can really go a long way in getting the best deals possible. Ask everyone you know for referrals. You should have no problem finding a realtor to work with even if you don't have recommendations.
If you don't have a personal referral, our vote would be to work with realtor.com. We've found it to be a valuable resource for gaining insight into the moving industry, and for finding realtors with positive reviews. Signing up and finding a real estate agent is stress-free and convenient.
Once you're moved in, getting settled is your next natural step. For the majority of the homes on the market, they'll be outfitted with style, personality, and technology from the previous occupants. Work with an interior designer to turn the space into something that resonates with you.
Seek out designers that have years of experience but have also kept up with current trends. We recommend Suzie Wilson. An interior designer with over 20 years of design experience who's incredible work gives a refreshing and inspired look and feel, personalized to your tastes and requirements. Discover great tips from her blogs on her website - happierhomes.net.
Do

Find a great realtor
Hire an experienced interior designer
Personalize your space

Don't

Delay furniture assembly
Work with a poorly rated realtor
Miss out on smart home technologies
Survive the first month
After the challenges of cross country moving, the first couple of months in a new city are tough. Not only are you dedicating the next few months to unpacking your belongings, but you're also discovering a new way of life as you go about exploring your new area.
Choose your new friends wisely and you're sure to be surrounded by positive and accepting people that will be happy to give you the inside scoop on all the great things happening around town. Whatever your situation, if you can get through the first month then the next couple of months are easier.
There are also strong support groups you can join like a meetup group with a shared hobby or interest. Additionally, consider visiting your local gym and think about signing up for a full service membership program. You can surely find others with shared interests.
Do

Join a local community
Find friends that are willing to include you
Try a new hobby

Don't

Be too proud to ask for help
Put off unpacking
Cut off ties with past friends and family
Whether you're moving for love, family or moving to a new place all by yourself, we hope we've given you some tips to make moving across country easier on your mind and budget.
Was this article helpful?
Be sure to share your moving experience/comments and opinions with us. Safe travels!
See also