Remodeling a somewhat dated kitchen with a new style keeps the magic going, right? Adding a more modern touch to your kitchen can reinvigorate your family gathering area and even you! Take charge and with a few simple changes you can refresh your kitchen, and catch up with the most recent trends in home design. Why not include the following modern kitchen style trends:
Aesthetic Style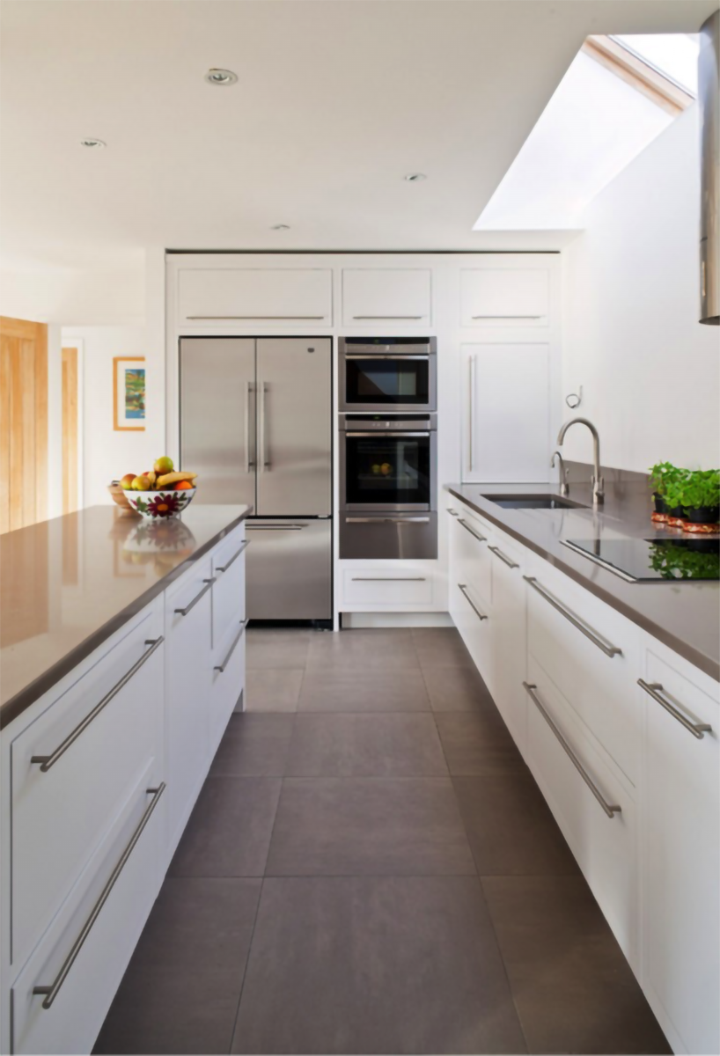 Contemporary kitchens feature minimalist design with monochromatic colors and elements that are flush against walls and countertops. In today's modern kitchen design, everything is streamlined, and clean lines are featured throughout the room.

Note that the popular materials used in modern kitchens today include metals, glass and stainless steel for an industrial feel. The color schemes are often dominated by slate, gray and black. Hardware is usually chrome; otherwise, sometimes no hardware is used at all on kitchen cabinets.



Modern Kitchen Features
While you're remodeling your kitchen, don't forget to add some modern features that will elevate your kitchen into the future and make life more convenient. The following are three kitchen features that we recommend adding to your kitchen:
Heated Flooring: Electric floor heating systems are a luxury feature that will ensure your feet will never be cold while walking around your kitchen. These systems can be used with nearly any flooring type, including tile, concrete, stone, carpet, hardwood, etc. Install a heated flooring system in the summer before the winter season starts, so you'll be comfortable this winter with the extra heating system in your home.
Modern Ventilation: Stainless-steel kitchen range hoods reduce indoor air pollution. Range hoods remove smells, heat, smoke and grease from the kitchen and help create and maintain a pleasant atmosphere while cooking. Furthermore, the range hood will capture grease that would otherwise fall on kitchen cabinetry; this can possibly damage the wood and will make the kitchen look dirty. Keep your kitchen clean and ventilated with a contemporary kitchen range hood.
Hidden Storage: Pull out storage in kitchen cabinets and the kitchen island makes the room feel less cluttered and more organized. Opt for pull-out shelves that are installed inside kitchen cabinets and below the kitchen sink. These will make grabbing items much easier and faster as you go through your daily routine. Lastly, don't forget how helpful rolling carts can be. Sometimes, these can be hidden under the kitchen island.
Other Kitchen Trends
In addition to the features above, you can add modern style to your kitchen with some or all of the following kitchen trends. These trends will make your kitchen feel unique and add layers of personality to the room.
Open Shelving: Use floating shelves constructed out of reclaimed wood for stylish storage that will showcase your items and impress your guests.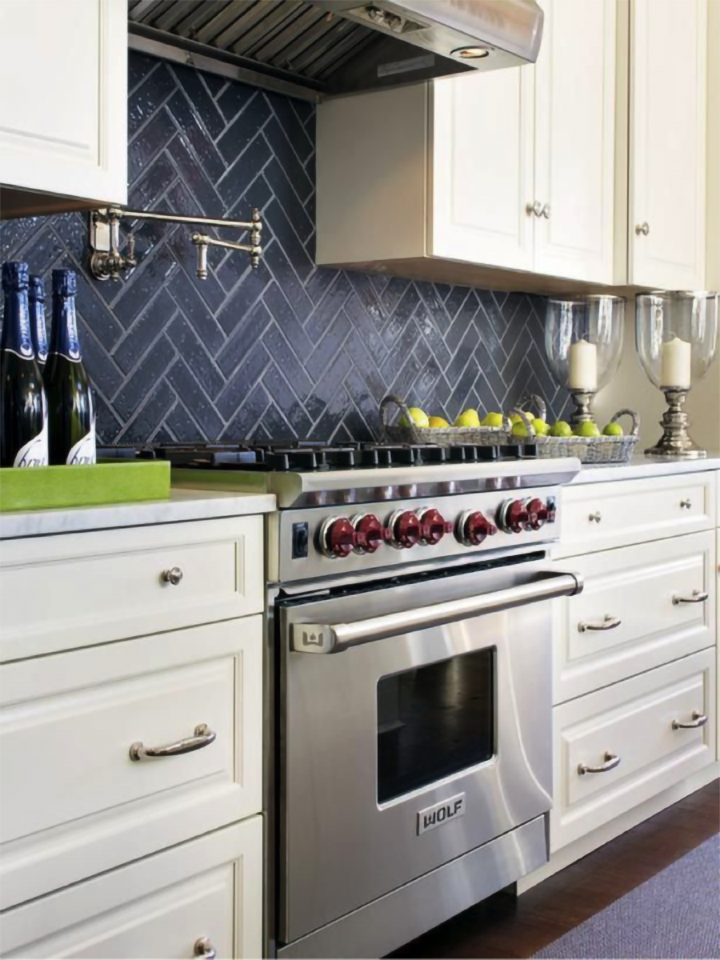 Backsplash Patterns: Backsplash tile arranged in a chevron pattern is the trend right now. This pattern will stand out and help showcase artisan tile in your kitchen.
The backsplash is a fun place where you can show off your style and design sense. If you don't want to go with a tiled backsplash, consider using reclaimed wood to decorate the space above the stovetop.
Funky Chairs: Add some stylish chairs and/or bar stools to your kitchen. Don't back away from bright colors that make a statement.
Lighting: Lighting in modern kitchen style right now is very playful. You can go in a bunch of different directions with this. You can go with industrial lighting, pendant lighting, big chandeliers, or recessed lighting (if you want a more minimalist approach). Or, consider using a combination of different lighting types.
Open Design: Knock down walls to make small kitchens feel larger. The kitchen will feel even bigger if you can install a glass wall between the kitchen and the backyard.
Use a combination of these modern stylistic choices, or all of them, while updating your kitchen. It will make all the difference as you use your kitchen every day.
About Range Hoods Inc.: Samantha Velez is the Content Specialist at Range Hoods Inc., and online retailer of stainless-steel kitchen range hoods. Range Hoods Inc. offers free shipping on a large inventory of kitchen range hoods from its warehouse in Southern California. For more information, visit http://rangehoodsinc.com/
PRO TIP: One way to really spice up your kitchen is a pro tip from Roxanne of the HoneyComb Home blog. She recommends mixing the seemingly two contrasting ideas of old and new into one vibrant design. Practically, draw inspiration from both antiques and contemporary design and you may end up with brilliant displays when done the right way. Be sure to choose a specific spot to showcase an arrangement of (modern + vintage) and coordinate your design by color. Perfect!
Sources:
www.hgtv.com/design/rooms/kitchens/small-modern-kitchen-design-ideas
http://freshome.com/2010/06/11/25-modern-kitchen-designs-that-will-rock-your-cooking-world/
https://www.dwell.com/collection/modern-kitchens-we-love-ef2c366a
www.warmlyyours.com/floor-heating
https://thehoneycombhome.com/mixing-antiques-with-modern-decor/
See also