Now more than ever, the kitchen is more than just an area to gather around the dinner table. It's become a multipurpose area transforming the heart of the home to command central. The coronavirus lockdown has reconnected us with our homes but in ways, we are unaccustomed.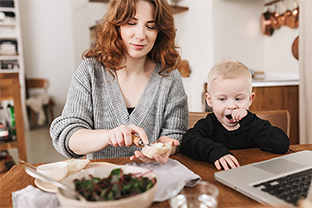 Life at home has become "more important than ever for people… which has led to a repurposing of the home in many ways," reported Ingka Group, who operates 374 Ikea stores. Families "changed kitchens into schools, bedrooms into workplaces, and backyards into amusement parks," Ikea added, describing 2020 as "a year of homecoming."
The Kitchen is More Important Than Ever
The kitchen has taken on more than its fair share of these new duties as it's usually centrally placed in the home making it by far the easiest room for a place of transition from one task to the other.
It may now serve as office space with many families having one or more of its members working remotely. And as classrooms moving online - from kindergarten to college. The typical working shift or school hours are now spent in our kitchens.
The kitchen has always been the gathering place for meals and special occasions. Now in some cases, we work, learn, and eat in the same room with more family members using this space than ever before.
Efficient Planning
Since historically the kitchen is where we prepare and serve meals, that's not going to change. It's difficult to imagine another room where we would have a stove, refrigerator, and all the supplies necessary to feed and comfort our families. The goal is to develop strategies that lessen the planning and prep-serve duties so there are more time and space for its newfound responsibilities and less of a burden on you.
The single most efficient thing you can do is to batch your meal prep. Use the weekends where the kitchen is less busy because schools out and mom or dad are off to prepare for the busy weekdays ahead. There are even apps you can use to make this easy and practically "thought-free". One of our favorites is Eat This Much. It gets high marks for its rich features. It tailors meal planning to your eating style - keto, low carb, vegetarian, etc. You can add what you already own to a virtual pantry and it creates shopping lists to make the trip to the grocery store fast and efficient.
The challenge for most parents today is that they may not have a dedicated desk in the kitchen and using your kitchen table ties it up for lunch and snack time. Ideally, you find another piece of furniture that's large enough for a child or teen but small enough that it fits in the footprint of your kitchen area and frees up your dining space.
'On-the-Go' Organization
Puzzle Tables
If using your kitchen table for dual purposes is an option, one clever idea is to repurpose a puzzle table. We suggest that you look for two features: lightweight with storage options.
Puzzle tables with light frames are a lot easier to pick up and move around. It's convenient because people are going a million miles an hour now learning and working from home while at the same maintaining the household. If you need to use the space for another purpose? No problem, the board can be easily moved from table to countertop, or stored away in a supply closet.
A puzzle table can provide a surface for working but you will still need a place to store papers, pens, pencils, markers, scissors, etc. We highly recommend this puzzle board as it has sliding compartments where you can tuck away all the supplies you need for the day. When you're done and you want to make enough room for everyone else it's seriously a one-step process of picking up the board and moving it elsewhere.
Card Tables
When we talk about card tables, we aren't talking about the ones at the casino. If you live in a house where at any given time the kitchen is packed, a card table is a perfect solution for a functional temporary work or learning space. Since it may become a semi-permanent fixture, we recommend something that's functional and beautiful. There are many options to fit your kitchen style. For a more upscale look, we recommend the Meco Stakmore card table. It's durable and lightly brushed with a stunning cherry finish. It quickly folds up at the end of the day so that you can reclaim your kitchen space for mealtime, entertaining, almost anything!
Work, Eat and Play Comfortably
Now that the national consensus is to stay at home and wait out the coronavirus, ideally, your kitchen is a warm and welcoming place from all the uncertainty and potential stress that comes with the changes we've all had to make to keep our families safe. If you find yourself dreading the time you are spending in your kitchen due to uncomfortable temperatures, go for the option of adding a wall-mounted radiant panel to bathe your kitchen in radiant warmth. You could go for that during the fall and winter seasons.
Wall-mounted radiant panels provide supplemental heat for areas where your forced air system may not be providing enough heat for a cozy hang out spot. Radiant Panels have an even more important feature for this season of covid - unlike forced air systems, dust and allergens are not spread around the ducts and vents when in use. You can consider closing off the forced air for your kitchen or any room and let the radiant panel be the primary heat source - only turning on the forced air if on occasion you need a quick build-up of heart.
Radiant panels may be installed horizontally or vertically so you can configure it to fit the wall space you have. And, there are panels that are plug-in which allow you to even move the panel from one room to another. A direct connection to a power source is another option if you want something that will be fixed in place.
A combination of added warmth, extra work surfaces, and advanced planning will ensure that the kitchen's new role as the command center keeps your family humming along and meeting the challenges that the coronavirus has brought. You just might find that your new way of life inspires you to keep some of these methods of operating and running your household.
Don't hesitate to reach out to us on our socials or in the comments section if you have any questions, comments, or concerns.
Have you set up your kitchen command center? Share your story with us and be sure to share this article with your friends.
See also