Picture yourself finding a charming mid-century modern with three bedrooms and two baths. The real estate agent guides you through a spacious living room with high ceilings and plenty of room over the hooded range and sink. You glide through some of the coolest rooms you've ever been in and you can't wait to call the owner to put in an offer. Everything is perfect until you get to the kitchen and all of a sudden it's "Hello 70's"! Nobody likes an outdated kitchen design. It's one of the parts of the house you'll be spending the majority of your time in - cooking, cleaning, and entertaining guests. But you wouldn't want to entertain anyone in a "That's 70's Kitchen". Well, this happens to a lot of new homeowners and we've based our blog to answer the question: "How to select the best wall tiles?" to turn that 70's look into modern day. If you are going at this alone or you are working with an interior designer whose job it is to give you quality design concepts, this blog will surely help you along your way to a beautiful, updated kitchen.
Wall Tile Real Estate
The golden rule of real estate is "Location, location, location" and this same rule applies to your kitchen's wall tiles. Where do you bring your guests to entertain them during a dinner party? Imagine your giving a home tour to a friend who just dropped by to say 'Hello'. Nine out of ten times, your kitchen will be the feature show. Decorative wall tiles take up a lot of visual space. A good or bad kitchen backsplash idea is one of the first things we notice when seeing a kitchen space for the first time. That's why it's so important that you choose the right wall tiles for your kitchen.
Wall Tile Materials: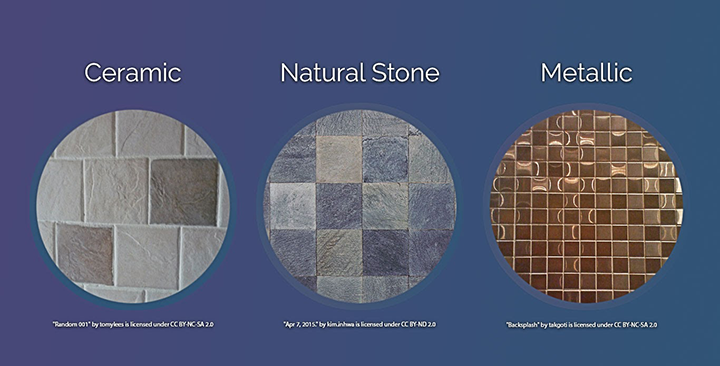 Materials
Ceramic and Natural Stone are common types of kitchen wall tiles, equally durable and able to withstand high humidity levels. Both ceramic and natural stone are stain resistant and non-slip. They're the most common retail option and you're likely to find them at your local hardware store. Metallic wall tiles can be pieced together or fitted to the wall as one metal slab. This backsplash style works well if you have metallic cabinets. Painted cabinets with metallic hardware also match well with a metal backsplash. Your interior designer may recommend that you match your wall tile with your kitchen cabinets for compatibility and visual cohesion.
Characteristics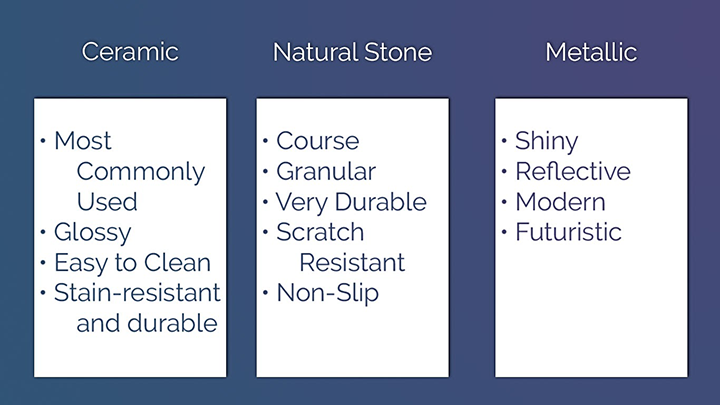 Creating Originality
When choosing the best wall tile, it is imperative to select a design element you want to stand out as a focal point of the entire design scape. It's as if you are using a spotlight to draw the audience's eye to your star attraction. Consider what your "wow" factor will be. Is it your kitchen flooring, countertops, or backsplash? And, put yourself in the eyes of the viewer. Maybe hang art to parallel the focal point. Add dimension to your design by adding old cutting boards or spice racks as well as beautiful pots and hanging fruit baskets. Just be sure it's functional.
Layout Patterns
Ceramic wall tiles and stone wall tiles can be arranged into beautiful design patterns. What's amazing about a wall tile pattern is that they're visually stunning and a conversation starter when entertaining guests. When selecting wall tiles, there are many different types of patterns to choose from. The most common pattern used across the board is a linear grid consisting of a square or rectangular tiles. Herringbone (see below) is another widely used mosaic kitchen backsplash pattern which aligns square or rectangular wall tiles 45 or 90 degrees to form a diamond-like shape. Consider that herringbone layouts use more material than linear layouts so it will add time and cost to the project. Even a wall tile can be a fantastic work of art. Patterns that do not repeat are also visually interesting. Have some fun! Consider adding bling with design accents like gemstones or soapstone peppered around to make a kitchen design that represents your unique personality.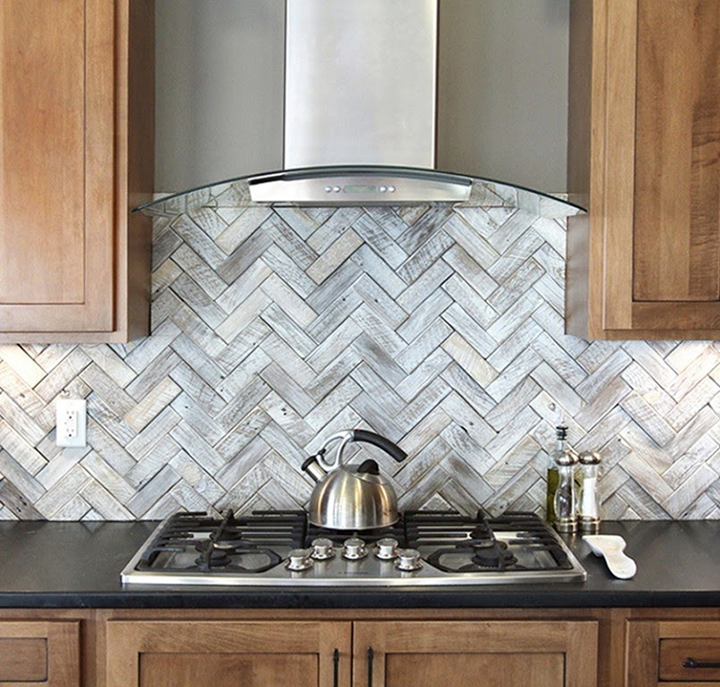 Herringbone White Wood Wall Tiles in Kitchen by Urban Evolutions
Bringing It All Together
As we're sure you're aware, good kitchen designs successfully create a common theme so that every aspect of the kitchen feels as if it belongs there, like there's a reason for your design choices. You could organize your theme with colors and for a lot of people, a color theme brings everything together. Also, it's possible to use materials for pairing such as the matching wood tones of the cabinets and backsplash as seen on the image featured above. It's time to activate your inner artist and articulate a prevailing trend in some way shape or form. You can experiment by testing out different materials to the extent of ordering a sample. Then, install the sample on the kitchen wall and live with the tile for a few days to give yourself an idea of the finished product. We also recommend building a vision board with certain tile sizes, styles, and shapes or Pinterest boards to conceptualize the space and help decide which one you like the best.
What is the Average Cost to Tile Walls?
The price of the wall tile job depends on the type of tiles you select, the tiles cost, and how much tile you need to cover the wall, and don't forget to allow some gap room for the tile grout which typically comes in at a quarter of an inch. A marble tile, for example, can be a lot more expensive than a ceramic wall tile. In the grand scheme of things, a custom tile wall or custom pattern could very well require a substantial investment. When you've found the perfect wall tile and you've calculated the area to cover and the number of tiles, buy approximately five to ten percent more kitchen wall tiles to ensure you don't run out of backsplash materials. And, you just might want to put a few aside for any future repairs.
Wall Tile Sizes
Sizes for standard wall tiles come in sizes ranging from single-inch mosaic tiles to seamless slab backsplashes. Almost all kitchen tiles are mosaic or regular sized, typically ranging anywhere from 1", 2", 4", 6", and 8". Some floor tiles can also be used duly on the wall as they're durable and stain-resistant when placed on a vertical wall. With so many options to choose from, selecting the perfect wall tile can feel overwhelming. Thankfully, many wall tile distributors are happy to provide a wide range of wall tiling options to suit your design project.
What Shapes are available?
Wall tiles come in many shapes and sizes so you won't have to worry about your mosaic being too simple by nature. Complex wall tile designs can be a significant investment but well worth the effort. The most common wall tile shapes are square, triangular, hexagonal, and rectangular in both small and large sizes. Specialty forms like lanterns, penny, circular, and more, are also excellent alternatives.
Frames Over the Range
Both contemporary and traditional backsplash design for your wall can coordinate mosaics or wall tile patterns framed above the kitchen range. As a vertical art piece, you won't have to be concerned about standing water or slip resistance. You can choose from virtually any size, style, and shape to achieve your desired result. Here is an example that plays very well in a modern kitchen.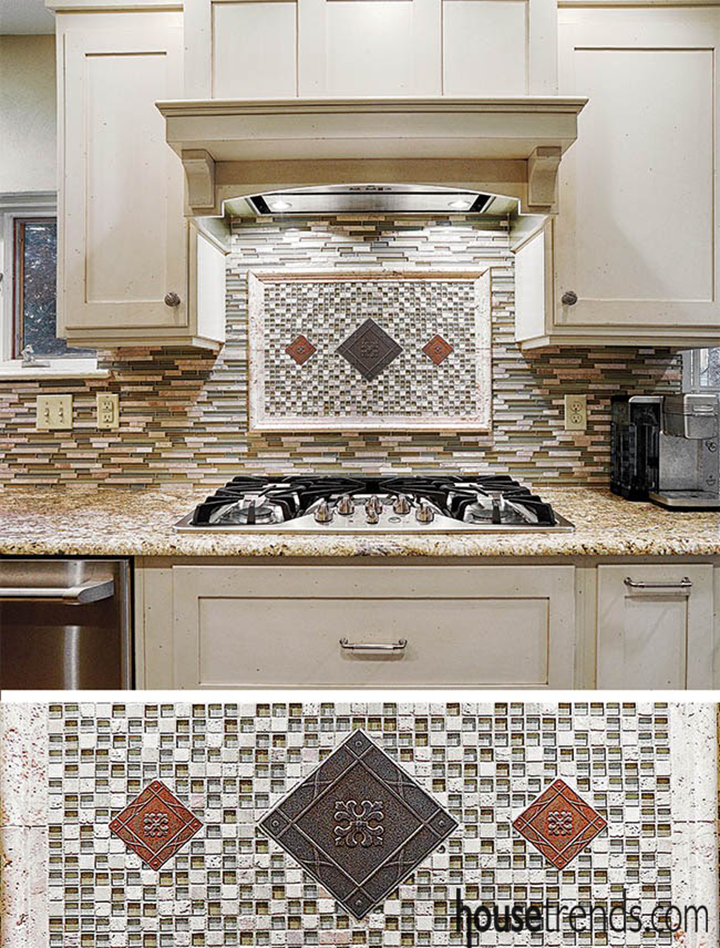 Kitchen backsplash tile ideas for any space by housetrends.com
Such a beautiful framed wall tile as this combines marble, ceramic, and metallic wall tiles into one. Wall tile designs are a matter of personal preference, but we recommend working with a professional tile installer/designer to allow for customization of the wall tile that works best. Depending on how much space you have to work with, frames can take up varying degrees of space to accommodate a customized elegant tile pattern or mosaic.
What's the Best Wall Tile Layout?
Wall tile layouts are built with your input in mind. Subway tile with dark grout creates an interesting juxtaposition. Herringbone is another popular choice that involves arranging wall tiles in angled patterns. Framed wall tiles proved to us that contrasting wall tiles can coexist. Sunburst tile, long and narrow Calcutta marble sandwiched between gold strips, has become another major trend this year. Mosaic one inch tiles or seamless slabs are class favorites. Again, collaborating with professional designers helps to complete the puzzle. Find the best layout that's right for you.
Thank you for taking the time to learn more about wall tile options. We hope that you have found the use of this blog post. Be sure to subscribe to our newsletter if you haven't already and good luck with your kitchen backsplash project.